A genetic counselor is an integral part of the healthcare team, especially when dealing with a hereditary cancer syndrome. Sometimes it can be overwhelming to know how to find one near you. This article should help you find a genetic counselor in person or by video/telephone.
You will need to check with your insurance company to verify coverage of genetic counseling, genetic testing and authorized providers. For more information, visit aboutgeneticcounselors.com. Most insurance plans cover the cost of genetic counseling and genetic testing when a patient has a known mutation in the family or fits criteria for testing.
You can meet with your genetic counselor in person, which is preferable, but not always possible. If you live very far from a clinic, or if the genetic counselors near you have a long waiting list, there are other ways to find genetic counseling.
The Find a Genetic Counselor directory offers access to over 3,300 genetic counselors across the US and Canada.
For this example, let's say I live in San Francisco and am looking for a genetic counselor who specializes in cancer genetics. I will make sure to choose my state, type in my zip code, and choose the radius I'm willing to travel (this may need to be changed if no results come up the first time). Make sure you select the specialization, which in this case is cancer. Then make sure to check the box that says "Board Certified" since you want to see someone who is board certified in genetic counseling. After you have completed this, click "Search".
You will need to scroll down to see the results. The genetic counselor's name, address, and phone numbers will be listed. You can look through the names and locations, then call the number provided to make an appointment.
The ABGC Find a Certified Genetic Counselor directory has been developed to assist health care professionals, patients, the public and other genetic counselors in locating genetic counseling services.
Make sure you select the practice area, then type in your state and zip code or any other information you want to include. When you are finished, click "Search".
This tool does not give you any contact information, but it does tell you their last updated company or clinic, city, state, practice areas, and the year they obtained board certification as well as the expiration date of their board certification. You make need to search further to find any contact information, but you now have some names to search.
Find a Medical Provider Experienced with Hereditary Colon Cancer Syndromes
This is a resource created by an advocacy organization to help patients with hereditary colon cancer syndromes find providers with experience. It was last updated in 2017, so it might not be completely up-to-date, but it does provide a list of providers who specialize in hereditary colon cancer syndromes. They are listed by state and city.
Even though some of the information is out-of-date, it can be helpful in finding a local clinic.
TELEHEALTH
If you cannot find a genetic counselor near you, there are several other options for genetic counseling and genetic testing. You can initiate services through Invitae at https://www.invitae.com/en/individuals/diagnostic-genetic-testing/cancer/. They will connect you with a genetic counselor near you OR by video/phone. They work with a company called Genome Medical.
"It's important to work with a healthcare provider who can make sure you receive the right test based on your personal and family health history and goals. You can schedule a phone or video consultation with a genetics expert through our partner Genome Medical, or you can find a provider near you by searching our Genetics Provider Network."

Invitae Website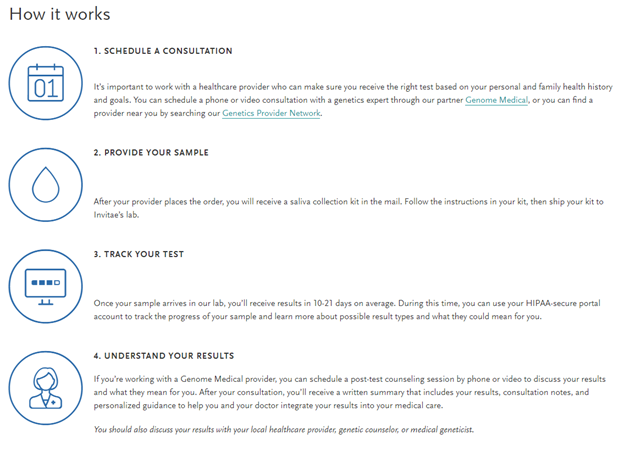 Alternatively, you can start with Genome Medical (https://www.genomemedical.com/), click "start now", and fill out their sign-up form.
Currently, there are over 75,000 genetic tests on the market. Not all tests are created equal. Navigating genetic testing without genetic expertise is a lot like driving without navigation.

Genome Medical
There are many advantages to seeing a genetic counselor in person, but for anyone who lives in a "Genetic Counselor Desert" where there are no genetic counselors for hours, or for those who have difficulty finding transportation, or for others, telehealth genetic counseling is a good option.
Let us know if you find any other helpful tools in the comments.